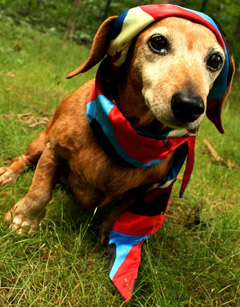 Our Dog of the Week is Delilah!
All she wants is a warm lap with a blanket to cover up with, she LOVES being with you and follows you everywhere, she will greet you after a long hard day tail wagging and one tiny foot raised to say Hi. She is house and crate-trained, but does not like to be picked up. She is great with the other dogs and cats, however, if she is picked on she has no trouble sticking up for herself.
She is not good with farm animals like chickens or rabbits. She needs to be kept on a leash or in a fenced in yard as she does not know her name and will head off if not watched. Loud noises and fireworks will often frighten her .
If you are looking for a delightful companion- then Delilah could be the ONE!