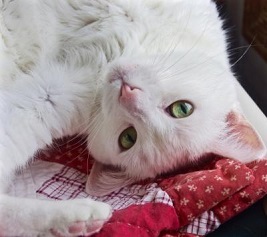 Losing a beloved pet is heartbreaking, but generally an expected part of having pets. They simply have shorter life spans. But sometimes, the unexpected can happen. Have you made a plan for your pets' care in case of an emergency?
Pet owner deaths, especially when they're sudden, leave many animals without homes and they often wind up in shelters, hoping for the best. Even unexpected accidents or illnesses find people unable to care for their pets with no alternative in place. So how do you, as a responsible pet owner, make sure that your pets are taken care of?
First, do your research. There are a lot of fantastic resources online that will tell you what to think about. The Humane Society of the United States has a great document available that talks about not only the basics of finding someone to care for your pets in an emergency, but also some of the legal considerations you might want to think about in case you're no longer able to care for your pets.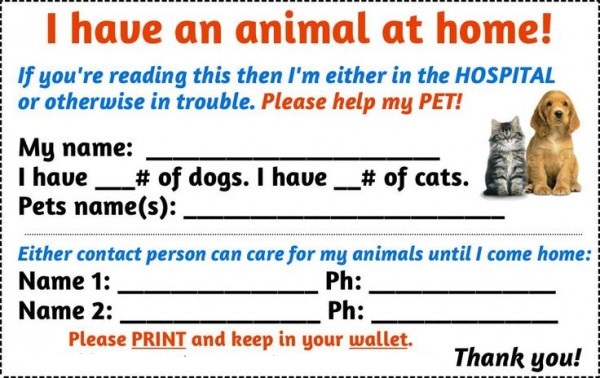 Another great resource is a pet emergency alert card which you keep in your wallet. If you're in an accident, the card notifies emergency personnel that you have pets in your home that need care and lists contact information for a designated caregiver. Some are very simple and could even be made at home, and others are more customized and fancy. If you do an online search for "pet emergency alert card" you'll find a long list to choose from. There are also many different types of signs you can post in your home in case of a fire or other emergency that lets emergency personnel know that there are animals in the home.
The most important thing is to make sure that you have some sort of plan in place. Not only do you want to be sure that your pets will be cared for, but you don't want your family or friends to have to make those decisions for you at what will already be a difficult and confusing time. Don't assume that your family (even family that you live with) will be able to care for your pets. Talk to them in advance. Whatever plan you put in place, be ready to update it if the person's life changes. Your sister may love your cats, but her future husband might be allergic.
If you want to provide funds for the care of your pets, or make sure that any decisions you make will be fully carried out, consult with a lawyer.
Hopefully, by planning in advance, you'll have peace of mind knowing that your pets will be cared for and loved.