The Brown County Humane Society is teaming up with Crossfit Bloomington for a day of exercise, animals, and fun! Below we answer some questions you might have about the event: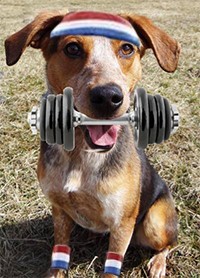 1. What can I Expect at Calories for Canines?
Event Organizer and Crossfit Bloomington owner Autymn Stafford says people can expect a "friendly workout" led by the Crossfit trainers. The trainers will also be able to answer any questions people have about Crossfit or the gym itself. Stafford also mentions that there will be a chance for people to "challenge the trainer." If someone want to challenge the trainer to do some type of difficult physical activity (like jumping rope on one foot or doing handstand pushups), they can make an additional donation and have the trainer try whatever physical challenge they can think of. "They can try to really stump us," she explains.
2. What Exactly is Crossfit?
Crossfit is a unique exercise regimen that has been growing in popularity over the past decade. Read more about it on Crossfit Bloomington's website
3. Do I Need to Know Anything About Crossfit to Attend?
Nope! Beginners as well as more experienced crossfitt-ers are all welcome. Stafford says "We're hoping people will give it a try, whether they have tried crossfit once or twice before or are hearing about it for the first time and are curious."
4. Is it Just a Workout?
No! In addition to the workout, there will be give-aways, challenged, and a physical therapist from Bloomington-based Athletico Physical Therapy. Everyone who pays to attend will have a chance to meet with the physical therapist and try dry needling if they are interested.
5. But What About the Dogs?
Of course no workout would be complete without some slobbery cool-down kisses from a pooch! BCHS will have several adoptable dogs at the event, who will be your eager cheerleaders during the workout. Volunteers will be able to answer any questions you may have about the dogs, and will provide information about adoption and foster care.
6. How Do I Sign Up?
Just show up! Calories for Canines is happening on Saturday, May 9th at Crossfit Bloomington, which is located on 300 W. Hillside Drive and is easily accessible by the B-Line Trail. The doors open at 9 am and the workout begins at 10 am and will last until 1 pm. The suggested donation amount is $20 and all proceeds go to BCHS in an effort to find homes for animals who need them.