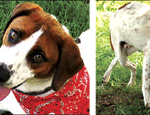 By Jane Weatherford
On a recent hot, steamy July day a skinny, young dog dragged himself into Waycross Camp, a local Christian kids' camp, and collapsed. He was barely able to walk because of a badly damaged hind leg and he was as thin as a blade of grass
One of the kind workers on duty that day gathered the emaciated, injured dog into his arms and gently placed him in a vehicle and whisked the dog to the Brown County Humane Society animal shelter.
There, this skeleton of a dog hobbled into the lobby looking exhausted and hungry. Jaime, the shelter manager, recognized that this dog needed some compassionate care immediately. She set up a special room for him with a big fluffy bed, some warm food and water.
Jaime said, "He was so trusting and looked like he knew that he was finally in the hands of someone who would take care of him."
This tired boy wolfed down the food, took a long drink of water and settled into the comfortable bed to rest his weary bones. No one knew where he had come from or how long he'd been wandering about in the woods or when he'd last had a real meal. From his looks they guessed that it had been several weeks.
Jaime named him Franklin after another skinny hound that had called the shelter home a few years ago. While Franklin was sleeping Jaime called a veterinarian to see if someone could look at Franklin that day.
As soon as Franklin awoke from his nap he was loaded into another vehicle to go visit the doctor. Franklin endured a thorough exam and x-rays were taken. The vet said that, fortunately, Franklin was heartworm negative and with a little tender loving care he would soon gain weight and feel better.
The bad news was that Franklin's leg had been badly broken at a very young age and allowed to heal in an abnormal position. The tibia was twisted, the kneecap was turned to the inside and the muscles much too short. As it was, he would never be able to use it. It just dangled in the air, giving him no support. The vet thought that Franklin would be OK hobbling around without doing anything, but long term it would be better for an orthopedic veterinarian to determine if surgery could help him.
I first met Franklin on the Sunday morning after he was found at the camp. My mother and I had stopped by the shelter to walk dogs and exercise the puppies. At 11 a.m., it was dripping hot, 80 degrees and very humid. I had already walked seven dogs and there were probably another five to go. I was soaked in sweat and getting tired when I looked in the next kennel. There sat Franklin.
I saw how abnormal his leg was and how skinny he was and said to myself, "Well, I could skip him and move on to the other dogs and get done quicker," but something in his eyes made me change my mind. I knew that this boy deserved a bit of time out of his kennel, too. I thought that I'd just spend a few minutes with him, as he wouldn't be able to walk very far, and then I could move on to the other dogs.
Franklin gently moved towards the front of the kennel and let me put a leash on him. He stumbled out of the kennel eager to have someone pay attention to him. He calmly followed me out into the field. At first, he was a bit slow, stopping several times to sniff and rest but always eager to move on. At one stop he gently put his head on my knee and looked up at me with warm, trusting eyes. At that moment I knew this dog was worth investing in.
I promised him that I would write his story and ask the generous folks in our community to help raise money to fix his leg. And I promised that the humane society would find him a wonderful loving home. Franklin is a determined boy and that Sunday morning he walked as far as all the healthy dogs had walked. He was a bit slower, but he enjoyed every minute of his excursion.
Several days later, Franklin was evaluated by Dr. Lee an expert in dog orthopedics. We were so hopeful that surgery would fix his leg, but the vet felt that Franklin's leg could not be fixed and he recommended amputation. The humane society decided to hold off on the amputation until they could determine what would be best for Franklin.
Franklin is a young dog, only about a year or two old. He is some sort of hound mix, white with brown spots, deep, gentle brown eyes with a very calm disposition. Franklin gets along well with other dogs and ignores cats.
He's very thin right now, but with a few weeks of good food he will come up to a normal weight. Franklin scored great on his temperament test, which means he'll make a terrific family companion. If he did not have this leg problem, he would be an easy dog to adopt.
However, because of his disability, it will be hard to find someone to adopt him. Although I can't keep my first promise to Franklin – to fix his leg – I am still very hopeful that I can keep the second promise – to find him a loving home. If you have the compassion to care for a crippled dog and would be willing to allow Franklin to share your home, he will shower you with love and affection his whole life.