Clem's world revolves around her people. She craves their love and affection and nothing makes her happier than being a part of a family. And, five months ago we thought we had found the perfect fit.
Clem was adopted by a wonderful family.  She was amazing with their children and fit into the family instantly. Unfortunately, Clem refused to come to a truce with the family's outdoor cats despite months of training and efforts. While it broke their heart, they made the rough decision to relinquish Clem in the best interest of both her and the cats.
To help Clem find that perfect fit, the family wrote the following letter to share with potential adopters:
Hello,
I would like to take a moment to tell you about how wonderful Clementine is.  She lived with my family for four months and we love her so much, but sadly can't live with her.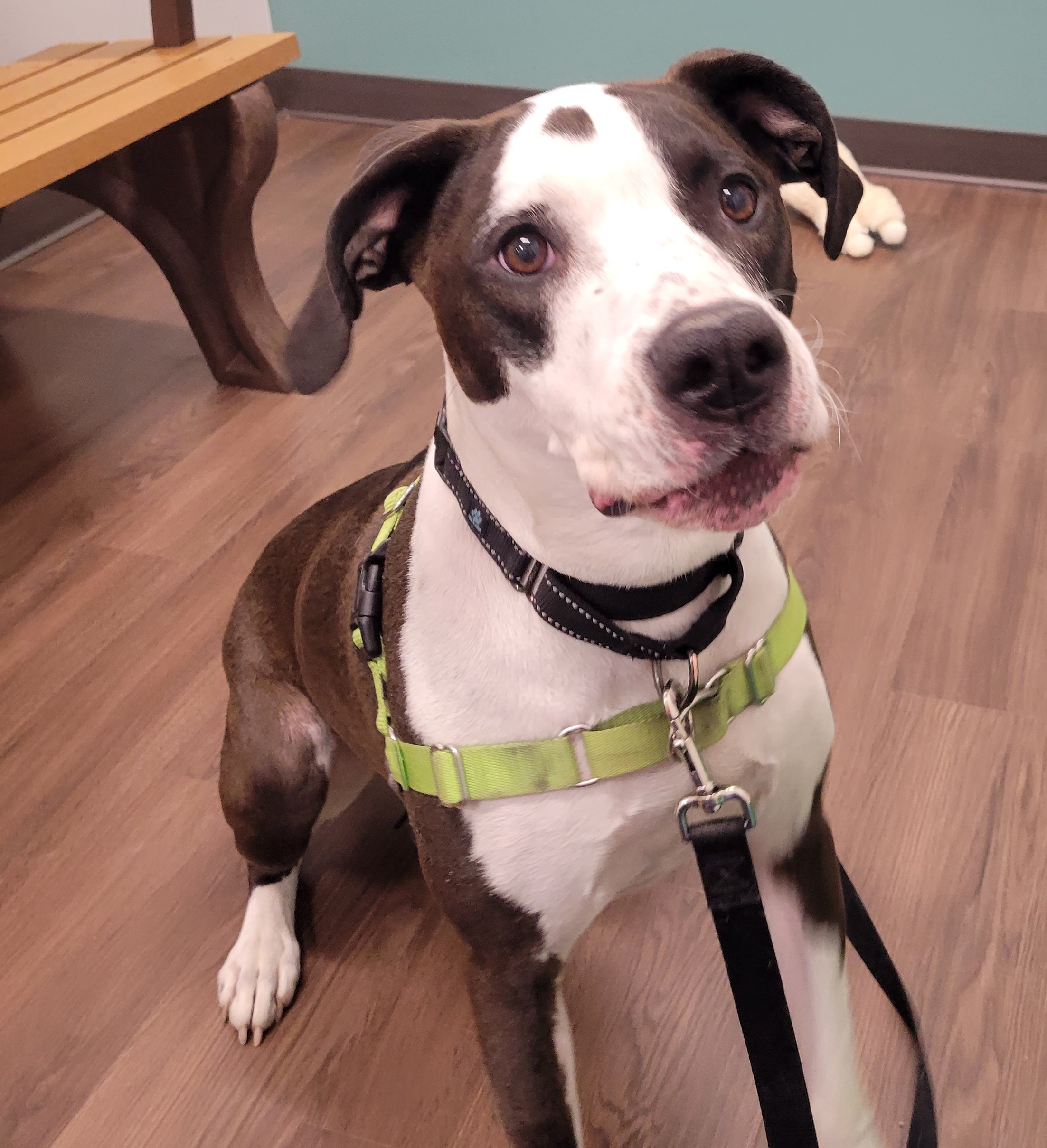 A few years ago our family's heart was broken when we lost our very best friend, a dog.  He had been with us since he was a pup and we were all so sad to lose him to cancer.  Years went by, and I yearned for a dog for our family. Finally, my girls were older and could help with another pet. We have cows, chickens, and outside/barn cats.
Over 2 years I was on rescue sites looking for the right dog. I saw Clem on the 2-week foster to adopt program and I knew she was the one. I expressed my concern to the shelter staff about the outside animals as she was part bird dog. They offered tips, training and assistance for acclimating Clem to the other animals, and we all hoped that after some time she would be okay with all the other critters.
Clem was absolutely the best dog I could have ever asked for. I was cautious with her in the beginning around the girls (ages 6-10). She is a big dog and we did not know her boundaries and she did not know ours. She did have her crate as a safe place and would go to it when she needed a break. She never got in trash or chewed on anything. She never had accidents in the house. She did love the girls stuffed animals. She would get them after she had demolished hers – LOL. She loved to play and knew when to be gentle.  She was absolutely perfect.
After about 4 weeks, I started to relax with Clem around the girls. The girls laid with her on the sofa and played outside with her.  Clem even jumped on the trampoline one time with them. I cannot make this up!!  I have a younger granddaughter who is very pixie like in stature. Clem was amazing with her. (I am crying as I type this). Clem started to sleep with us. That is a huge deal for us.  When I had all 4 girls on the weekends, she would sleep in the middle of them. She was part of our family.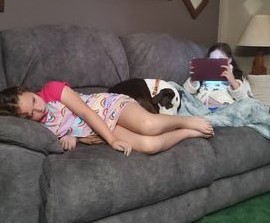 Clem had her spot on the couch. One that was already taken by the man of the house! After we tucked the girls in at night, Clem would claim her spot. Eric would come in to watch his show and tell her to scooch over…. she would heave a sigh and go to the other end. It was a ritual. On the weekends when the girls slept a little later, she would lay on the floor outside of their rooms waiting for them to get up.
Clem had the run of a big fenced in yard. The cows and chickens were on the other side and they quickly came to a mutual understanding of tolerance with occasional barking and almost playing. The cats, …. well the cats were another story. Unfortunately, she made her feelings on cats very clear.  She just could not leave them alone.
If we did not have these cats whom we have raised from kittens, we would still have this wonderful dog. We love her so much. I cannot tell you how hard of a decision it was to not keep her forever. It literally broke our hearts. The girls still cry when we talk about her. She was the goodest girl ever. I trusted her completely around my girls.
Please adopt her and give her a wonderful home.
Broken Hearted,
Kelly
You can learn more about Clem by visiting our website.  She is currently in foster care and will require an appointment for a meet and greet. If you are interested in meeting her, please complete an online adoption application and a staff member will reach out.