Jane Weatherford, treasurer of the Brown County Humane Society (BCHS), recently spoke at the Best Friends National Conference in Atlanta, about how a small, rural shelter can be successful. Weatherford and shelter manager, Sarah Armstrong, attended the annual conference that is attended by 1500 animal welfare advocates.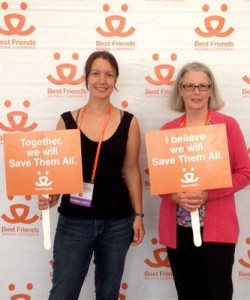 "The speakers they invite are top notch innovators in the field," said Weatherford, who has spoken at the event four consecutive years. "It always surprises me when they ask BCHS to speak. It truly is an honor to have our organization recognized nationally."
BCHS, which accepts all animals regardless of health or background, led the state of Indiana with a 98 percent save rate in 2014 among shelters that are not classified as 'no kill'. It has maintained a save rate greater than 95 percent for five years – approximately 30 percent higher than the national average, which is around 65 percent according to the ASPCA. BCHS occasionally sends animals that have physical ailments or health issues to the Best Friends sanctuary in Utah.
"Most of the things we do have not been big, expensive programs, but lots of easy to implement ideas that most nay other shelter or rescue group could do," Weatherford said. "Just letting people know that it is possible to achieve a high save rate, in a rural community with few resources, but with the right tools and programs is rewarding."
To learn more about Best Friends, please visit www.BestFriends.org.