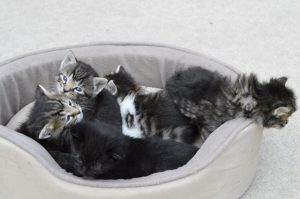 In the next couple of months, the population of cats coming into the Humane Society will increase by as much as 400%.
Why such an increase? Kitten Season is coming. This is the peak time when most kitten births happen. It occurs twice a year in spring and fall, but at a higher volume in the spring. Shelters across the country will receive an influx of kittens in a short period of time, causing a strain on resources and space. Kittens are particularly vulnerable because their immune systems haven't developed yet. Because they require more care, some shelters simply cannot handle the volume and are forced to euthanize. In fact, kittens are euthanized in shelters at a higher rate than any other animal.
The Best Way to Help Kittens
The best way to help these kittens is through foster care. Foster care provides the additional space needed, as well as the monitoring and attention kittens need to remain healthy and socialized. At BCHS, every kitten is placed into a foster home until they are old enough to be vaccinated, fixed, and adopted. That usually happens when they weigh at least two pounds and are about 8-10 weeks old. Every litter of kittens is different and some will need more care than others.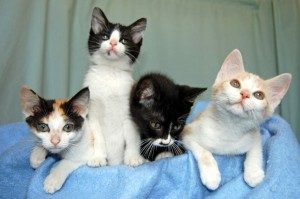 Fostering is a highly rewarding experience, and it is not as difficult as it might seem. For one thing, kittens don't require much space. A small bathroom or a wire crate or baby pen in a closed-off room works well when they aren't being supervised.
In addition to monitoring kitten health, making sure they are eating and growing appropriately, socialization is one of the most important aspects of fostering. The first eight weeks of a cat's life are the most critical if they are going to grow up to be friendly and happy around people. Fosters make sure that the kittens get plenty of positive handling and introduce them to new experiences: sounds, people, play. The more positive experiences the kittens have during this time, the more adoptable they will be.
Foster volunteers receive plenty of support. Instructions are provided as well as regular check-ins with shelter staff, so even those without a lot of experience can feel comfortable. Some volunteers only foster during the summer, some only foster one litter for the year. Other volunteers prefer to help bottle babies, those very young kittens who are without their mother that need to be bottle fed.  Every situation is unique.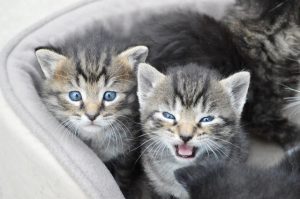 Foster volunteers are part of a vital lifeline and have a major impact on the number of lives saved by any animal shelter.
If you would like to foster a litter of kittens (or other pet in need) for BCHS, fill out an application or contact your local animal shelter and ask about their foster program.