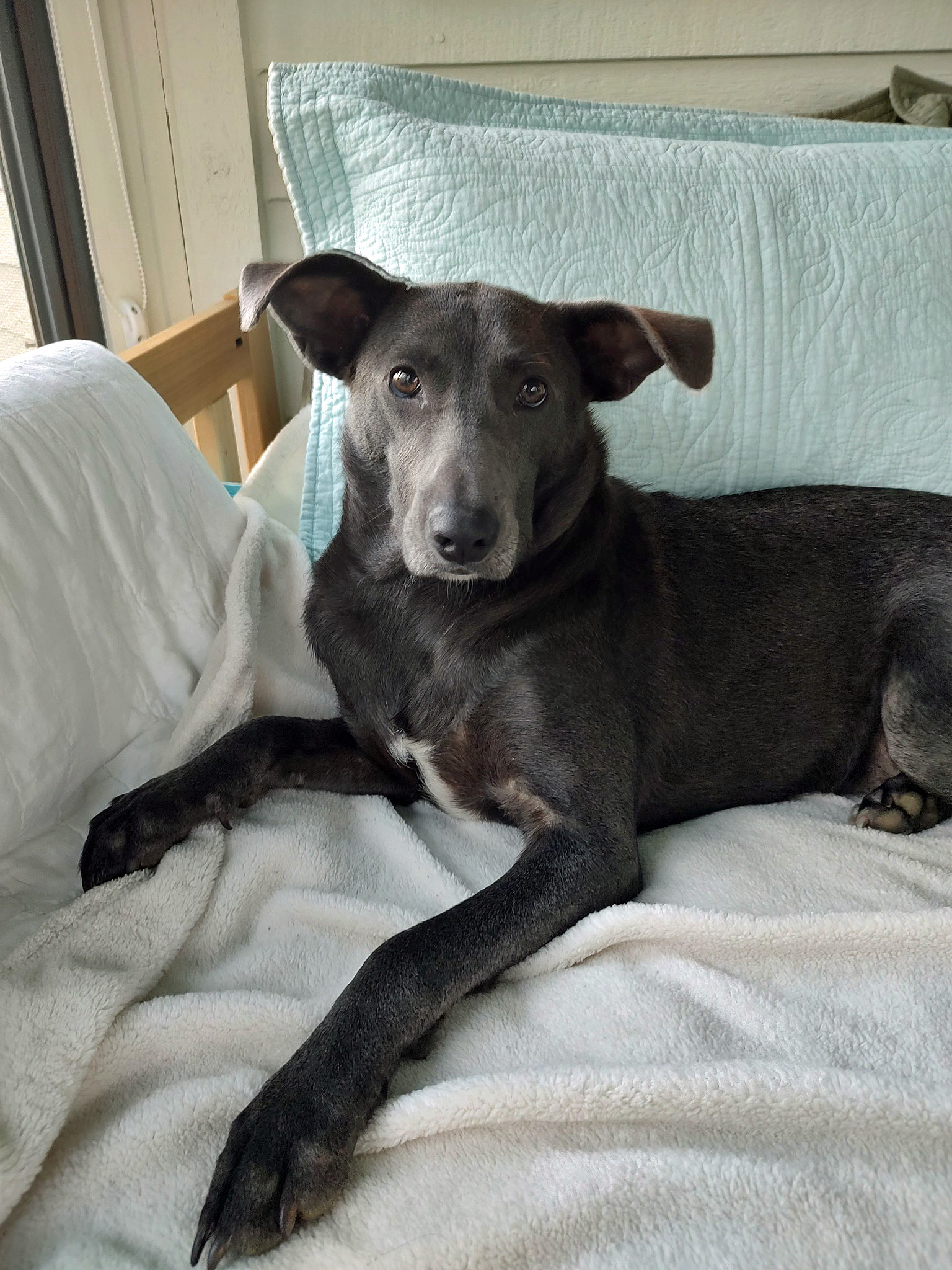 You might have noticed that we haven't shared much about our Bodhi boy lately. He is still with us and looking for his forever home. He has been in a foster home for a couple of months and we wanted to give him some time there. We wanted Bodhi to settle into the first real home he has ever had, to learn how to be an inside dog and also to give us time to learn who he truly is outside of the shelter.
And, once again, our amazing foster has given us more than we could have ever asked for. There are times we just cannot say things better than our foster parents who are dedicating their time and attention to a homeless pet.  This is one of those instances. Bodhi's foster mom captures the real Bodhi in a way we never could.
Here is a note from Bodhi's foster:
Bodhi has come a long way in foster care.  When I went to pick him up at the shelter, he was so timid and scared that we could barely convince him to get into my car. The entire ride to Indy he paced and paced in the back seat. When we got to my house, he ran from the garage to the back bedroom to seek a safe space from which he could only be coaxed out with food.
The first night he laid near the front door. Every time I checked on him, his head was up, and he was staring at that door. I don't think he slept at all.  It was as if he was on guard all night. The second night he slept curled in a tight ball on the couch, but every time I went to check on him, he ran to the corner of the living room. And then, on the third night, I was blessed with an early Christmas miracle.
After three days of trying to figure out how to acclimate him to living in a home, I was tired and frustrated.  And the contrast between Bodhi and my dog Olive, who had recently passed, just compounded my grief for Olive.  All my grief about Olive and concern for Bodhi came crashing in on me as I lay down to sleep that night. But sleep did not come because all I could do was cry.  I am not sure how long I cried before I saw this precious little face staring at me from my bedroom door. It was Bodhi.
The dog who would barely come near me unless I had food for him was timidly creeping toward my bed.  He was clearly still afraid to get too close, but he mustered up all his courage and kept approaching me. As soon as he got next to the bed, I patted the mattress next to me. Very warily, he jumped up to sit at the bottom of the bed. He would not lay down, and he was still staying as far away from me as he could.  To try to get him to relax, I kept telling him that he was a good boy. He stayed at the bottom on the bed, but he finally laid down.  So, I rolled over to try to get some sleep. But my tears kept coming.
And then the miracle happened. This timid little boy who had been found in the woods stuffed into a crate with his three brothers, who had lived in the shelter for months and watched each one of his brothers leave him as they were adopted. This scared, sweet little boy, slinked his way over to me, laid down next to me, and put his left paw over my heart. I spent the next hour pouring out my heart to him. I told him all about Olive and how much I missed her. I told him that I was worried that I could not be a good foster mom for him because I had never had a dog who was so timid, and it had been such a long time since I had lived with a puppy.  And he listened and listened and listened, and he never moved, and he never took that paw off of me the whole time.  When I woke up the next morning, he was still faithfully by my side.  Truly this was a miraculous transformation.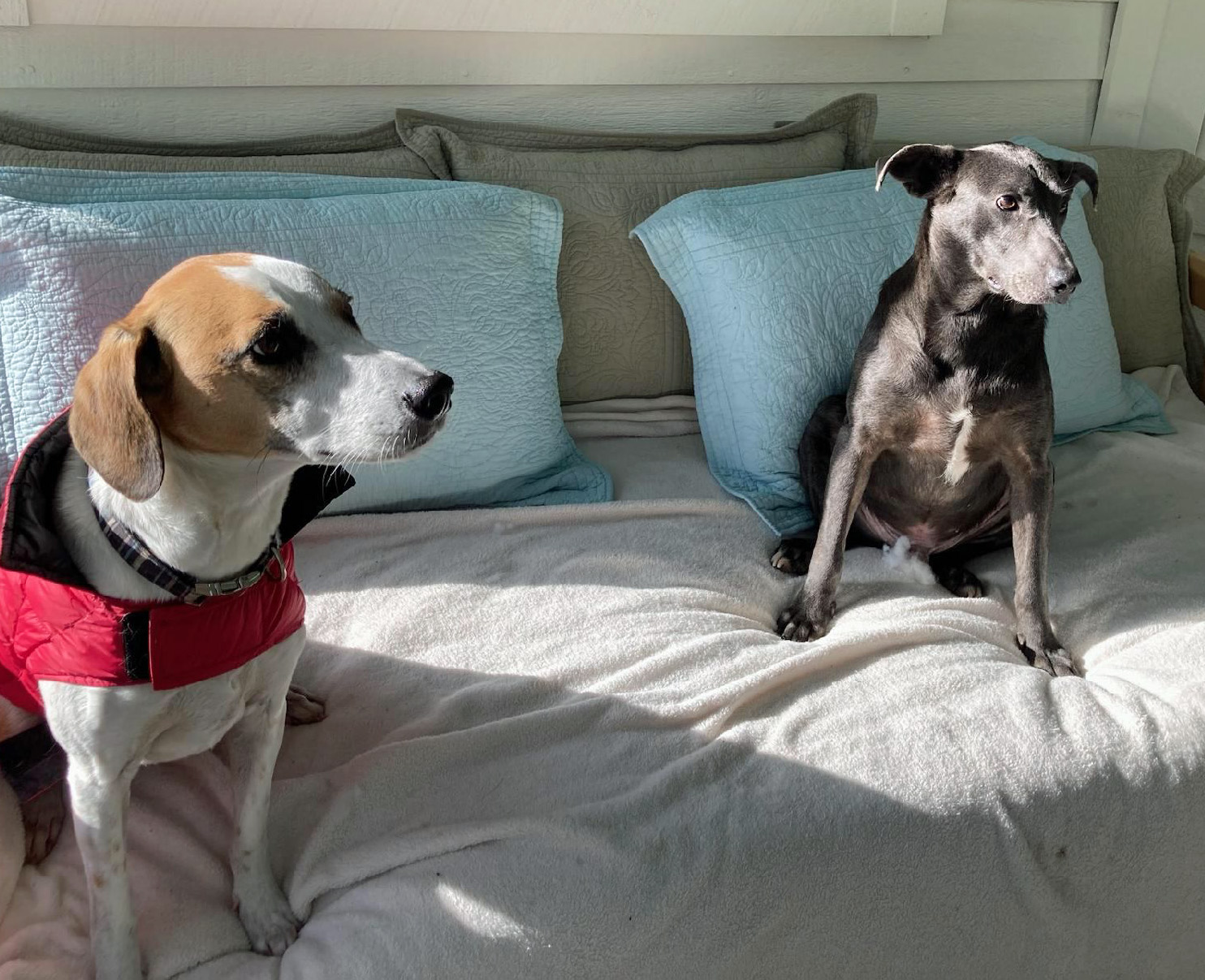 In the weeks since that night, Bodhi has really come out of his shell.  He LOVES to play ball and chase squirrels in the back yard and go for long walks. He is no longer terrified of getting in the car. Everything makes him happy. He is happy to go to bed at night and just as happy to wake up in the morning. He loves his breakfast and his early morning walk. He loves curling up behind me while I sit at my home office desk all day, but he also loves to romp and play when we take breaks. At the end of a long and active day, he is more than happy to curl up on the couch with me and watch TV.  He just loves life and is ready to find his forever home.
If you are willing to meet Bodhi on his terms, he can fill your house with joy and wonder. He is quite the people pleaser and he is extremely smart. This is a great combination because he has learned the rules of my house very quickly.  That first week, he decided to shred one of my Better Homes and Gardens magazines while I was in a Zoom Meeting in the other room.   As soon as the meeting was over, I went out to the living room to see what he had done. I explained firmly that magazines were for reading and not for chewing. He never ate another magazine. Each time I tell him "no" about something he should not have done, it is clear that he is deliberately adding that to his mental list of things he should not do.  The first time I had to leave him, I reluctantly put him in a crate, but that did not work well. He was still very agitated when I got home a few hours later. So, the next time I had to leave, I closed off all the doors to the bedrooms and bathrooms and let him stay in the living room. I expected to come home to a disaster, but I just could not put him in that crate again because of his past experience being trapped in a crate in the woods. Much to my surprise, when I got home, he had not disturbed anything.  He had only taken his toys out of the toy basket and clearly had just been playing with them.
Bodhi still needs help overcoming his fears. He is still reluctant to meet new people, although if a human visitor to my house comes in with a dog, he warms up to the dog immediately and the human just a little while later. He is also a very strong boy, so we started a training class to help him walk on the leash without pulling me down the block. And he needs lots of exercise. He loves his walks and can entertain himself in my fenced back yard by tossing his toys around and pouncing on them.  He is still a puppy in so many ways. But again, his desire to please is immense. He needs someone with patience and a sense of adventure. No two days with Bodhi are ever the same.  It is clear that he is ready to put his sad beginning behind him and move into a joy filled life with a family who will love him unconditionally. He will return that love a million-fold.
When I think of Bodhi, I am reminded of a verse from Elton John's Circle of Life:
Some of us fall by the wayside
And some of us soar to the stars
And some of us sail through our troubles
And some have to live with the scars
I think that Bodhi will probably always have to live with his emotional scars, but I think with lots of love, he will also soar to the stars.