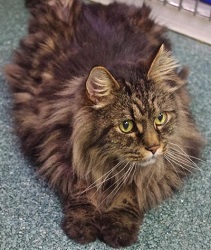 Sebastian – You can't take your eyes off of him, can you? The gorgeous main of fur, the big eyes, the gigantic feet. Sebastian is a glorious example of a Maine Coon. Until he turns around. You see, Sebastian is all party in the front, business in the back
The poor boy came in with terribly matted fur, so he had quite a bit of shaving done as a result. He's a little bit indignant about it, but who wouldn't be? It certainly made him feel better, and it will grow back. In the meantime, the other cats like to use his tail as a toy.
Just like most Maine Coon's, Sebastian is very friendly. The first thing he does when he gets out of his condo is head for the people. He just likes attention from everyone. That shouldn't be too hard, though. You still can't take your eyes off of him, can you?