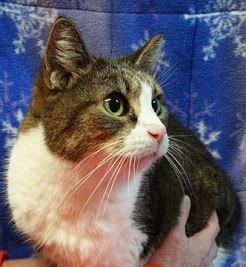 Ryana is a doll.  She's bright and sweet and LOVES attention. She likes to sit next to you and get lots of chin scratches, and she'll chatter back to you all the while.
Ryana is always one of the first to say hello in the morning, letting you know that she's happy to see you and would love to come out to be with you. Her first priority isn't to play or run around, it's to settle in with you for some one-on-one time.
She's a beautiful cat, with lovely, thick fur like a cotton ball, and she has the cutest little bob tail.
Ryana was declawed by her previous owner, so she'll need to be an indoor kitty. Without that ability to defend herself, she's also wary of the other cats, so she'd prefer to be an only kitty.
If you're looking for an sweet companion that loves attention and won't scratch your furniture, come and meet Ryana.