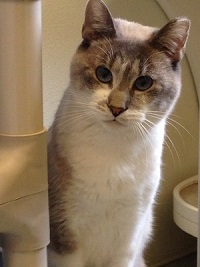 Tucker has had an amazing journey.
In 2012, the Humane Society of the United States worked to rescue over 100 cats from a hoarding situation in Indiana. The cats were sent to numerous rescues, with BCHS taking in five. These cats had spent their entire lives without real human attention. Some were almost feral, and all were extremely frightened.
Because the cats had spent their lives indoors, they couldn't be adopted as outdoor pets or barn cats. But not many people want to adopt a pet that won't allow itself to be touched.
Fortunately, our partners at Best Friends Animal Sanctuary offered to take the three most social, healthy cats. We knew they would have the resources to work with the cats to the point where they could be adopted.
That left buddies Tyler and Tucker.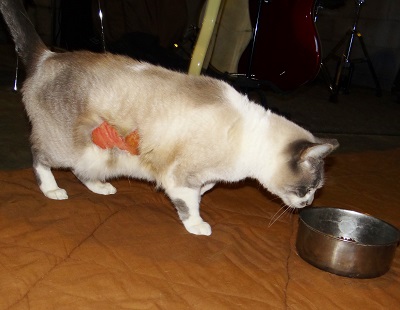 Tucker had the worst time adjusting. He didn't like to be touched. He cowered in the corner or climbed as high as he could to get away. Then he began to over groom himself, licking his side over and over again. It got to the point where he had created a large patch of hairless, raw skin that wouldn't heal.
After ruling out possible medical problems, we realized Tucker was experiencing horrible anxiety. We started him on medication, but we knew that being at the shelter was causing the anxiety for him. Then, he started to groom Tyler as well. Although Tyler loved the attention, he was starting to develop his own patch of raw skin. We had to separate the two cats.
Tyler was able to stay with another one of the shelter cats he liked. Now Tucker was on his own.
When our new shelter manager, Sarah, learned of Tucker's condition, she decided she could foster him in her home to see whether it would help. Sometimes, animals just can't adjust to life at the shelter and foster care is what makes the difference.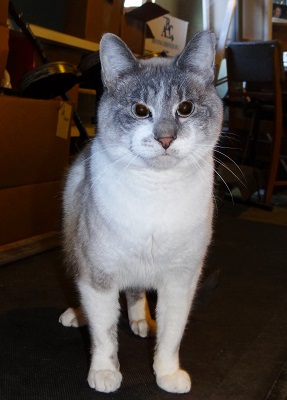 Sure enough, Tucker began to slowly come out of his shell. Away from the noise and chaos of the shelter, with more focused attention, he began to relax. He started to come out on his own, not just for food, but to actually spend time with people. He even loved Sarah's cats (unfortunately didn't love him).
Best of all, his side started to heal. It's still a pretty surprising sight and the fur may never be completely grown in, but it's not a problem for him the way it was.
Now, Tucker enjoys attention and affection. There's a special spot between his shoulders that he loves to have scratched and he will beg for more of that. He enjoys sitting in the window and watching the world go by, and when he hears activity, he starts in with his 2 syllable mrrr-OOOWW. He even played foster brother to a litter of kittens and did a great job!
Tucker is ready to go to his own home. He's a gentle soul who would enjoy a quiet home without too much noise or activity, but plenty of affection.
Help us find Tucker the home he deserves, where he can spend the rest of his life knowing love and kindness. He's worked so hard, and he's waited long enough.