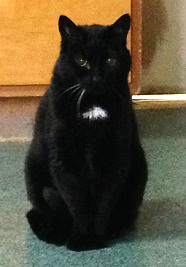 Jordan – a sweet, quiet girl who would love to have a real home of her own.
Jordan was brought in by a family who found her living beneath their porch. We don't know how long she'd been outside, but she must have had a home at one time, because she's declawed.
Jordan likes the company of humans, but seems to prefer her own space when around other cats. She can be in the same room with them, but she doesn't really want to socialize with them.
She loves to play, especially with the little red dot.
Jordan will need to be an indoor cat, but that won't be a problem for her,  since one of her favorite things to do is relax on a nice, soft bed!