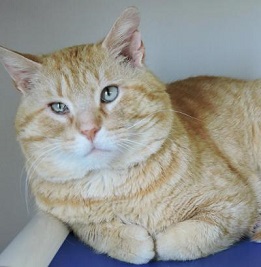 Elroy – Sweet boy Elroy.  Shy when first introduced, he warms up quickly when scratched on his head and neck, and pretty soon you notice that he's following along behind you, wherever you go. "Hey, wait up, that scratching thing feels pretty good!"
Elroy's cutest feature is his big, chipmunk cheeks, which make him look like he's storing up nuts for the winter. You just want to reach out and give them a squeeze!
In fact, Elroy's pretty squeezable in general. Laid back, easy to get along with (according to the other cats), just as happy playing or napping…he's an all-around good guy.