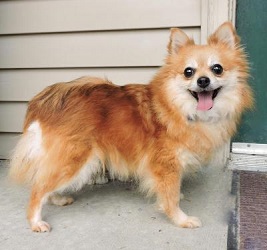 Roxy – When Roxy smiles, she lights up the whole room.
Smiling doesn't always come easily for this beautiful girl. She hasn't grown up around a lot of people, so she's not always sure what to do about them. They're all so tall! But she's learning, and it's wonderful to watch her spread her wings a little more each day.
Roxy's goal in life is to be your loveable, lifelong companion. She's looking for the comfort and quiet of a loving, patient home, where she can learn to be brave. She's working on her potty training, but still needs some time and help to get it right.
Roxy may not have all of her social behaviors completely figured out yet, but she's getting there, and once she knows that you're there to love, protect, and care for her, she will reward you with a love and affection like no other.