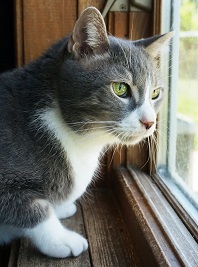 Fella – Most cats, when they're scared or nervous, run away from people. Not Fella. He runs to people. That's where he finds his comfort. He'll stay close, leaning his body into yours, or putting his paws on your lap.
Fella is taking his time adjusting to being at the shelter. He's exploring very slowly, making sure he's not in for any big surprises. What keeps him relaxed, though, is people. As soon as you start to pet him and scratch his head, his body softens, his eyes brighten, and the purring begins. When he wanders around the room, peeking into the scarey corners, if he gets nervous he comes back to you for reassurance.
If no one is around to comfort him, Fella likes to curl up in his cat bed and peek over teh edge, or wiggle under his blankets in his kitty condo.
This big Fella is just looking for some love and company to keep him safe. Once he knows he has that, life is good.