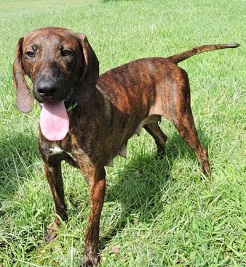 Dixie – a true southern belle. 
Dixie charms you by looking directly into your eyes as if she understands exactly what you are saying. 
She walks proudly with her head held high and a graceful gait, never pulling on her leash (she's much too polite).  Respectful of others, she patiently waits for people to give her attention. 
As with all southern belles, Dixie keeps an immaculate house (aka kennel) and is always in style with her beautiful brindle coat. 
We are sure that if she talked, she would call everyone "darling" with a very southern drawl!  Come meet the belle of the kennel!