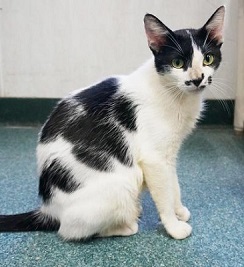 Lorraine. Such a lovely kitty. She came in as a lost cat, with her litter of kittens, and it was as though she'd just been longing for someone to take care of her. As she settled in on a nice soft blanket, she was immediately purring and looking for affection.
So sweet and gentle, Lorraine loves to have her head scratched or her tummy rubbed. There's something very calm about her, as though she knows she's safe now and she can relax.
Lorraine is hoping to find a nice, quiet home where she can provide love and friendship, in return for…love and friendship.