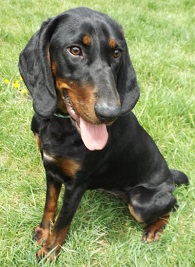 Tara – This girl will impress you in several ways. First with her quiet, gentle nature.  Tara doesn't believe there's such a thing as too much petting, so if you just sit with her, stroking her shiny coat, she will practically crawl into your lap for a nap. No need to rush off. 
When it's time for more activity, though, Tara is ready for that, too.  She's so enthusiastic for playtime, she can be a little too impatient to wait for proper leash technique.

Tara has made plenty of canine pals, loves sniffing everywhere (she IS a hound, after all) and even likes to play in the rain. 
With so many great qualities, Tara is sure to impress.