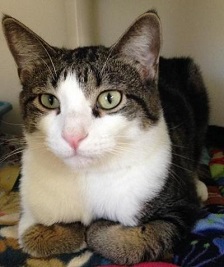 Ozzie – What a delight. Just look at that face and those fuzzy paws.
Ozzie loves to have his chin scratched, right on the side there. That's the place! When he's satisfied that you've found the right spot, he rewards you by scooting forward a bit more to let you try again. Finally, he'll relax and  let you pet the rest of him. It's like winning a prize.
Ozzie is still adjusting to all of the activity and noise at the shelter, but when he gets attention from people, he relaxes. Right now he loves to climb into the cat house and observe from a safe distance. He just needs to know he's loved…and that's not hard to do.