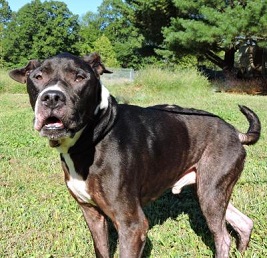 Darrell – He's about easy-going as anyone.  His leash manners are perfect, he plays well with other doggies, and he just seems to enjoy life. He came in with a treatable skin condition that made him look a bit rough around the edges, but don't let that fool you…he's one good-looking boy. 
Darrell enjoys the company of people, and sometimes he can be a bit vocal about letting you know that if you leave him alone. 
Darrell's perfect day includes making the rounds with his nose to the ground, followed by petting, and finally plopping onto the ground to soak up the sun. 
Come say hello to Darrell and you might feel like you've been friends forever.