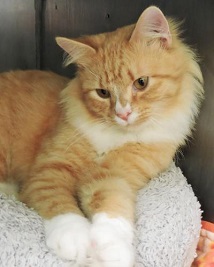 Meeko – He's quite a character. With his permanent head tilt, his white boots and fluffy neck ruffle, you can imagine him as the star in a cartoon or comic book. He's certainly got the personality for it.
This super-friendly sweetheart doesn't do anything half way. When he wants attention, he wants attention. He'll rub all over you, reach up your leg to say hello, bump your head in greeting, roll over on his side for a belly rub, and climb on your lap. He's always happy to see you.
When Meeko arrived at the shelter, one thing we quickly noticed was that he seemed to sleep very soundly. When he was napping, we could call his name repeatedly and he'd stay fast asleep. More than one person worried that he had actually died. Fortunately, that wasn't the case. What did become obvious though, was that Meeko is deaf. It doesn't seem to bother him, really, although he's got a pretty powerful meow. He's not aware of his on vocal strength! It all adds to his character.
Meeko has spent his entire life outdoors. He'd be safer as an indoor cat, but he may need patience learning the ropes. He's looking for someone who will match his level of enthusiasm for life. He's not great with other cats (they don't seem to like him), so a place to call his own would be best. He's got the personality to fill an entire home on his own.