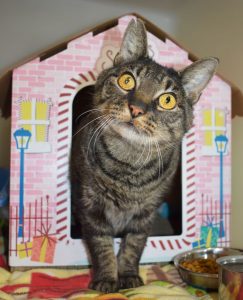 Juno is an incredibly handsome boy. His dark tabby stripes and his bright yellow eyes really make him stand out. But he's not just good looks. His amiable personality and playful attitude are what make him really special.
Juno likes to cuddle, and he really enjoys it when you play with him, but he can also entertain himself. Stalking his toys is a favorite past time. On the other hand, a nap by the window is equally nice for him.
Juno is really just a lovely boy.