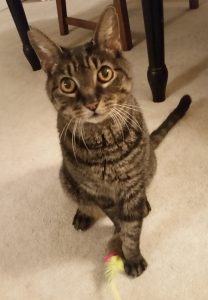 Juno is a strikingly handsome boy with huge amber eyes and a strong body, but he'd rather rely on his charming personality than on his fantastic good looks.
Juno loves to stalk his toys, pretending that he is a jungle cat and his feather toy is the unfortunate prey. Of course, like any fearsome cat, his hunts are usually followed by a nice nap in the sun.
Juno is affectionate, curious, and funny. He likes to be close, but can entertain himself if necessary. At six years old he is the perfect mix of mellow and fun. A wonderful boy for all ages.
Juno hated being at the shelter, so he is currently in foster care. To learn more, or to arrange to meet Juno, call Ingrid at 317-501-9000.