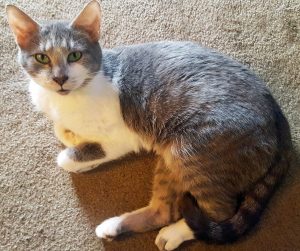 Nacho Momma continues her reign as Cat of the Week
This isn't a title we want any of our pets to have for more than one week, but we aren't giving up as we know Nacho's family is out there.
Nacho is a sweet, gentle girl who is just looking for a home where she can be your companion and source of joy. She doesn't need much to be happy – some fluffy mice, a laser pointer, a window to look out of and a nice comfy box to crash in after a vigorous play session.
She isn't pushy, she doesn't demand attention, but does loves a good cuddle session. She enjoys nothing more than to follow her foster mom around the house just to be sure she isn't missing anything exciting.
Could you use a companion who will adore you, who has impeccable manners and is just looking for a home to fill with love? Then Nacho is your girl!