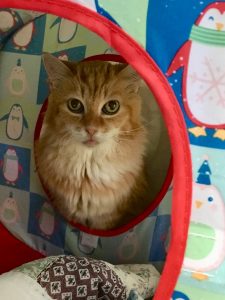 Lately, Tuesday pretty much hates everyone and everything. It hasn't always been that way. When she first arrived after the death of her owner, she was understandably nervous but very sweet. She especially loved chin scratches and was enjoying quiet attention from everyone.
But then the medical procedures began. She needed several teeth removed. Then she had part of her tail amputated. Then she developed an ear infection which needed treatment. Her stay hasn't been the most pleasant experience, so it's no wonder she's mad.
Fortunately, we know the sweetness is in there. We've seen it. She just needs someone willing to give her some time and love (away from all the poking and prodding) that will help her relax and be herself again.