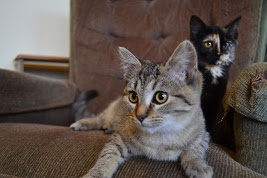 Cranberry and Rosemary – These two little sisters were part of a group of cats that was abandoned at the shelter. Despite that rough start, they are a delightful bundle of energy and sweetness and have melted the hearts of everyone they've met.
Cranberry (the gray tabby) is the more adventurous of the two. In her foster home, she walked up to the friendly Great Dane and touched him right on the nose. Then she went off to explore and try to climb the Christmas tree, after which she settled in for a nice rest on the lap of the nearest person she could find.
Rosemary (the torbie) is a little more timid about playing. She likes to check things out first, walking all the way around the box before jumping in, or poking her head through the door for a peek before entering the room. One thing she's not shy about is people! She happily runs to whoever visits, eager to be picked up for a cuddle.
These sisters love to chase and wrestle, jumping from one thing to the next. Small as they are, they sound like a heard of elephants running down the hall. Cranberry and Rosemary have Feline Leukemia Virus (FeLV). They are healthy now, and could be for a very long time. The virus is only contagious to other cats (not people or other animals), so they need to live in a home with no other cats.
We would love for these two girls to get to grow up in a home together.
Watch Cranberry and Rosemary at play in their own videos:
See Cranberry meet the Great Danes.
Cranberry – Bold and Beautiful