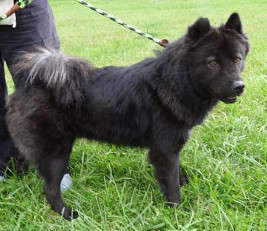 Zion – Drop dead gorgeous – that's the first thing you'll think when you meet Zion. His deep golden eyes are mesmerizing. His luxurious, long, fluffy black hair is like nothing we've seen before.
There is also quite a playful dog in Zion. It's taken a bit of time, as he was quite frightened when he arrived, but he is now running and playing with other dogs and seeking people out for affection. He loves to lean against your legs waiting for you to pet him.
Zion is a bit of an escape artist. He played a rousing game of "catch me if you can" with the shelter staff one day when he got out of a pen. He didn't really want to run away, he just wanted someone to chase him, but he'll need a tall fence and a watchful eye to keep him from playing "chase" again.
Zion is quite a character and will enjoy having a family of his own