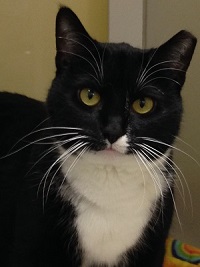 Tyler – What an inspiration. Tyler came to us from a hoarding situation, where he was in a home with at least 100 other cats. He'd never received any real human attention and suddenly he was surrounded by people and noise and bright lights. You can imagine how scared and anxious he was!
It's taken work, but Tyler has slowly learned to accept gentle affection. He actually craves the presence of people and cries when there's no one around, but he doesn't always trust them yet.
Tyler has come so far and he really deserves a home of his own where he can finally feel safe. He's still a bit uneasy with too much attention from too many people, but he warms up to individuals. He's shown that, with the right kind of attention, he's sweet and friendly and very playful.
All he needs now is someone with a little patience and a good heart, and Tyler will learn that being a home boy can be a great thing.