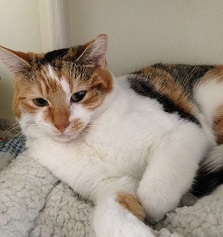 Basel – Master bird watcher seeks home with big windows, playful companions, and occasional loving attention.
Sweet little Basel has come such a long way during her time at the shelter. She came from a litter of feral kittens and was very, very shy and scared. After receiving lots of TLC, Basel has learned that sometimes  affection is a good thing.
Besides bird watching, Basel's favorite thing to do is to play with the other cats. She's watched several of her best friends get adopted already, but she's always willing to teach a new kitty the game of chase.

Basel's still a bit nervous about loud noises and sudden movements. She would do very well in a quiet home, with big windows and another very friendly cat who can teach her about the joys of being a lap cat, while she can share her deep knowledge of crinkle balls.
Watching Basel go from terrified to comfortable has been very special. Watching her become completely relaxed will bring you joy.