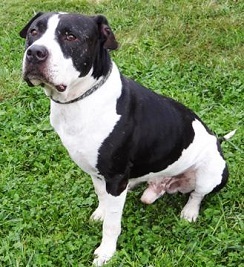 Mojo – You may remember him. He's pretty unforgettable. Twice we've posted photos of him going home. Twice he's come back. So what's wrong with him?
ABSOLUTELY NOTHING! Sometimes, everyone has the best intentions but, for one reason or another, they realize they've made the wrong decision for their life. That's ok, because we love having Mojo with us and we want him to find just the right home where he can stay forever. Now we need your help to spread the word and share his story.
Mojo is special. Let's face it…he looks like a small cow. This boy is 90 pounds of pure lap dog. He seems to have no concept of how big he is. We often find him sitting on the office chair, looking out the window, oblivious to the fact that he's bigger than the actual chair.
Mojo has p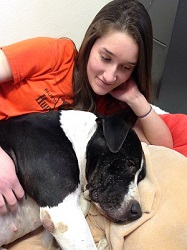 erfected the arts of lounging, leaning, and sitting. There's nothing he loves more than to be next to you, half his body draped over your lap, just relaxing. Whenever staff or volunteers at the shelter are having a bad day, they just sit on the floor with Mojo and wrap their arms around his strong body, soaking in his comfort. He's gentle and sweet and he makes the day all better.
But Mojo IS a big boy. The staff call him The Train, because when they walk him, he's like a locomotive, plowing through the snow (he loves the snow!). He needs someone strong enough to handle all that exuberance. He's quite smart and good at training (he knows "sit" and "shake"), so a little work on proper leash walking might help. It's also best to let him have slow, controlled introductions to people and animals. After all, if you don't know him, he's a little overwhelming to look at.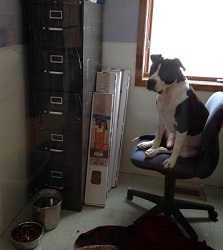 Mojo is a lover, but there is one thing he cannot abide, and that's cats. We don't know what a cat ever did to him, but he's still holding a grudge against them all.
He's also better away from small dogs because his big, playful style can be too much.
There is no other dog like Mojo. He is a dog people tell stories about. He's a true companion…a co-pilot through life. He's the piece of your life you didn't know was missing until you met him.
Mojo is a once-in-a-lifetime dog.
Videos