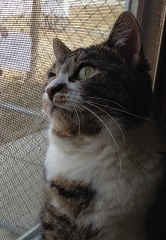 Beauty – her name says it all. She's a petite kitty with a lovely, delicate face.
The first thing you notice about Beauty is her joy.  Every morning, she bounds out of her kitty condo, stopping for some pets and scratches, and then looks for someone, or something, to play with.
Beauty can entertain herself, and you, for hours.  She'll chase balls, roll and kick soft toys, and jump for strings.  However, her absolute favorite activity is sitting in the window watching birds.  Her eyes get big, she sits up tall, and you know she's trying to figure out how to get out there. 
When she first came to the shelter, Beauty was very shy, but now she enjoys the attention.  She's not quite ready to cuddle, but she might get there.  She's a fast learner.
Beauty will do best in a home where she can have a warm spot by the window, a little patience to overcome the last of her shyness, and plenty of time for play. She gets along great with other cats, too!

In return, Beauty will delight you with her sparkling personality, her wide-eyed love of nature, and her sweet joy.