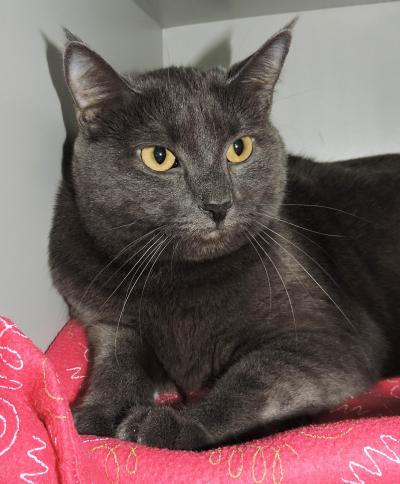 Deirdra – Such a beauty, with lovely golden eyes and the softest fur, perfect for petting, Deirdra is still adjusting to her change in circumstances. She was an only cat in a quiet home and the move to the shelter has been overwhelming. She still feels most comfortable in her kitty condo, where she can observe what's going on and take things at her own pace.
The way to Deirdra's heart is through chin scratches. A few gentle rubs and some sweet talking and she eventually begins to forget she's shy and rolls over to give you more access for scratching.You know you've really made a difference when her body relaxes and she stretches out to let you pet her from head to toe. There's a silly, playful side to Deirdra, too.
Deirdra 's a lovely girl who doesn't quite understand what's happened. If you have an open heart and some patience, though, you'll see what a special girl she is. Earning Deirdra's trust and affection is like winning the lottery. You'll feel very, very lucky.