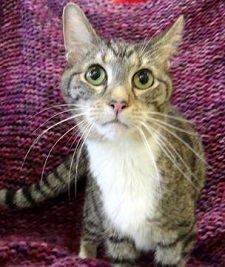 Dutch is a very special kitty.  He is such a chatter box!  He became a staff favorite almost immediately.
Right from the start, we noticed that Dutch ate a lot.  We were worried he would put on too much weight.  Then we noticed that just the opposite was happening.  He ate and ate but was getting more and more thin.
It turned out that Dutch had hyperthyroidism, which is usually found in older cats.  It's treatable, but we needed help raising the money for the treatment.  Fortunately, our supporters rallied around this little guy and helped us put together the necessary funds.
Dutch has had his treatment and is now just fine.  In fact, he's more than fine!  Dutch loves to be the center of attention and is Mr. Social around the BCHS lobby.  It's as though he's especially grateful for the love he's been shown and now wants to pay it all back.
Some lucky family is going to be getting all of that love.  Will it be you?