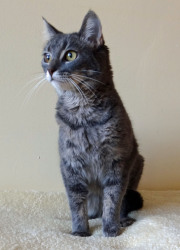 Anna- Adorable Anna here! I am the purr-fect choice for your family. Want to know why?
I've recently been on a little adventure to a foster home, where I had a blast! My foster mom brags on me all the time. She says I'm the best because I never get on the kitchen counter, but I do like to do a bit of exploring. If you can't find me, I might be taking a nap in a cabinet or closet.
My foster mom and dad really enjoyed it when I would take time to sit on their lap to be petted – I liked it, too! They had a really cool dog that I got to hang out with. He was big, but he listened really well to me.
Here's a tip about living with me – I like a really clean litter box. Other than that, I am an easy to get along with kinda gal. I do require daily eye drops because I have a "dry eye", but I'm really good at sitting and letting you put the drops in.
Drop by the shelter to meet me.  I'm sure we'll get along famously!  I even have my own video!