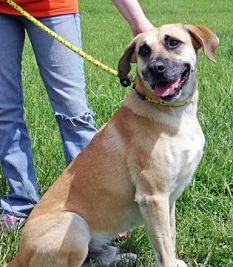 Duke – What a lucky boy.  Duke was fortunate enough to live with our behavior coordinator while going through heartworm treatment a few months back.  There he was given lots of individual training and he learned good doggy manners.  He's a quick study and enjoys learning new things. 
Duke also lived very happily with 2 dogs and a cat.  Duke is completely house trained and enjoys playing with other dogs.  He has excellent leash skills and while on walks, he loves meeting cats, other dogs, kids, runners and bikers. He is a social canine butterfly of sorts. 
Duke is extremely curious about new things, which sometimes leads him to go on little adventures, so supervision and a secure area will be needed for Duke.  He does have a great recall and will come when his name is called. 
Duke would be really happy in a home with another dog to help keep him busy. He is a loyal dog and will be delighted to have a family of his own.