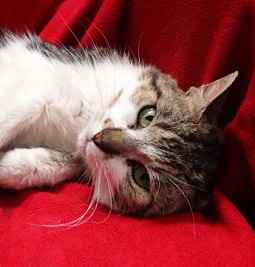 Felix – Cuddly. That's the perfect word to describe Felix. If you're looking for a kitty who loves to cuddle, Felix is the one for you!
This sweet boy's idea of heaven is a warm lap and a belly rub. He's not at all picky about who he lets hold him or who he snuggles with.  Felix is welcoming to one and all, including the other cats!

Felix is very handsome, too.  Just look at those beautiful green, come-hither eyes. Felix is the total package: friendly, handsome, and cuddly all rolled into one big bundle of love.