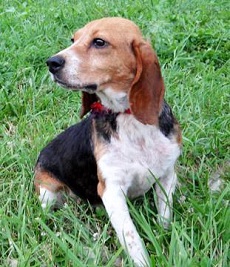 Sweet Pea – Spend a little time with her and all your worries seem to go away. 
Such a gentle soul.  Just stroking Sweet Pea's soft, warm coat and silky ears brings feelings of peace and tranquility, and she is willing to sit for hours while you pet her. 
She's an attentive listener, and seems to hang on every word you say, gazing up at you with her soulful eyes, or wiggling her little eyebrows in understanding.  Talking to Sweet Pea is like having a best friend.
Sweet Pea is a quiet, undemanding dog, but her eyes light up when someone pays attention to her.  See for yourself, stop by and visit Sweet Pea and see if your worries disappear.