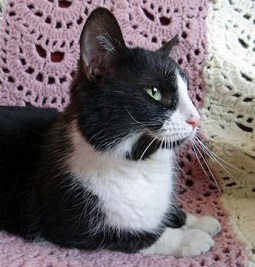 Nobu – Sweet little Nobu has really come out of her shell. She was very shy when she first came to the shelter but with lots of TLC has blossomed into the friendly girl she is today! At first, she used to shy away and curl up at the back of her condo, but now she comes right out, looking for attention.
Nobu's favorite time of the day is in the morning, when she can rub up against staff members as they clean and prepare her cage for the day. She gets along well with other kitties and loves to be petted and brushed.
Come on in to see Nobu for yourself. Her cute black and white coat will grab your attention and her sweet disposition is sure to steal your heart!