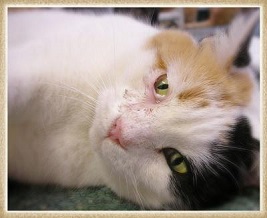 Saffron – That face.  Those eyes.  Just like her namesake, Saffron will add sweet spice and beauty to your life.
Saffron has been in the shelter for over 500 days.  We don't know why.  She's always been a staff and volunteer favorite.  We often refer to Saffron as "Cotton Ball"or "Q-tip" because of her soft, puffy coat and talk about how much she LOVES to play. Her favorite toys are crinkle balls and jingle balls, but really she'll play with anything.  She'll run and chase her toys across the room as fast as she can.  She'll even play with them in her kitty condo, throwing them up in the air, chasing them under her blanket.
Saffron's got tons of energy.  But she's got her sweet side, too.  She'll often stop in the middle of the room and lie on the floor, waiting for you to rub her head.  When she's done, she'll let you lie next to her, gazing into your eyes.  Then she curls up in her kitty bed for a nap and has the sweetest sleepy face. 
Help us find this girl her forever home.  As much as we love her, she shouldn't have to spend her time at the shelter.  She deserves the chance to show a family how wonderful she is.
See Saffron in action in her very own video.