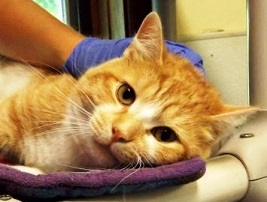 Sherman surrenders (to friendship)! 
It took 10 days, but Sherman finally decided his foster family was pretty cool.  During the first days in his foster home, he hid under a chair and his foster family could barely catch glimpses of him.  He then pryed the register off the floor and climbed into the ductwork. Once the register was secured, he retreated back to hiding under the chair. 
Then, miraculously, on day 10, Sherman decided his new home was awesome!  He climbed out from under the chair and marched right up to his foster mom and rubbed his cheek on her hand.  He's been super friendly ever since. 
He loves to cheek rub and head bump, asking for more attention.  Sherman enjoys sitting in the window and watching the birds.  This big, handsome orange and white tabby cat has a huge, fun personality. 
Unfortunately, Sherman has Feline Leukemia Virus.  He is very healthy and to look at him you would never know he had the virus.  FeLV kitties can sometimes live for years with few issues.  Sherman will need to be the only kitty in a new home or he could live with other FeLV kitties. 
Sherman is hopeful a loving family will fall in love with who he is and overlook that little virus he has.  Will you give Sherman a chance?  Note:  FeLV is not transmissible to humans or dogs
Watch Sherman in action in his own video.