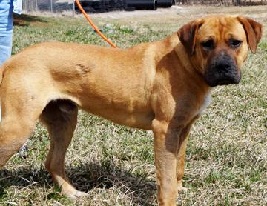 Munch is still just a youngster and after the initial week of being quite frightened in the kennel, he is now all about play!  
Munch was pretty scared when he first arrived.  He didn't know what a leash was and he refused to walk when one was on him.  Now he's well adjusted to leash walking and is delighted to prance out to the play pen. 
Munch is curious and likes to explore in the play yard.  However, if you call his name, he'll come bounding to see you. 
Munch loves to go out on visits to town to meet the public, and they love him. Munch is a big, silly boy that will keep a family in smiles!