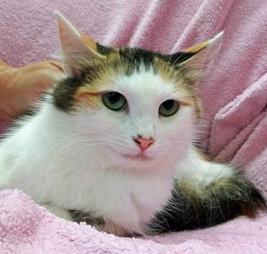 Rita – Sweet. So sweet. Just as sweet as can be.
Rita has the most gentle meow, very politely calling your attention to her. Everything about her is polite…the way she moves, the way she gently lays her head in your hand, the way she ever so smoothly brushes against you with affection.
And soft. So soft. Just as soft as can be. Like the finest silk.
When Rita gets attention, she leans into you. She melts against you. Every bit of her body expresses how happy she is with your petting.
For Rita, life is about the niceties. She would do so well in a calm environment, snuggled on the bed or in the window, or helping you read your book or newspaper.