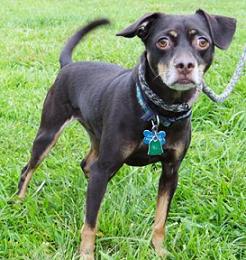 Carlisle – Look at those eyebrows. This cutie was pretty worried and frightened of all the noise and activity when he first arrived at the shelter. It has taken him a little while to trust new people, but now he's soon up in your lap, if you'll let him.
Carlisle has now become quite the love bug with staff and volunteers. Everyone comments that his fur is as soft as velvet and so is his heart.
Does sitting in an easy chair throwing a ball for a dog to chase sound like your kind of evening? That would sure make Carlisle happy! A little fetch and then some snuggling are his favorite activities.
Carlisle's waiting patiently for a calm, laid back family that will toss a ball for him to chase for a few minutes each day. In return, you'll get all the snuggles and kisses you could ask for.