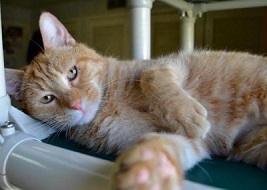 Tigger – A joyful, friendly boy.
Tigger's got a bright, sunny personality and loves to get attention. Walk by his kitty condo and he'll reach out to say "hi."
He has the wonderful, balanced personality everyone loves…playful, funny, cuddly and sweet, all rolled into one. In fact, he's rather irresistible.
To quote the Disney song…"The wonderful thing about Tiggers is that Tiggers are wonderful things."