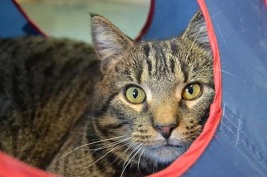 Clarence -This handsome boy has learned that if you want something in life, you need to just reach out and grab it.  So he does. 
Walk by his condo and Clarence will reach out to say hello. Dangle a string, he'll reach out and hang on. Sit on the floor, he'll reach out for a spot on your lap.
Clarence is so good-natured. He likes cats.  He likes people. He likes toys. When all of the other cats have sauntered off for a nap, Clarence is still happy to run around wearing out the kittens.
Basically, Clarence just likes to enjoy himself and he likes for you to share in his fun.