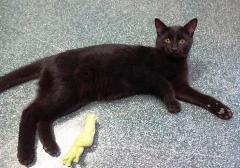 Cody is our action hero, and his bravery is evident every day.
He's super-fast, he can wiggle out of the toughest situations, and when he leaps from the top of the cat tower, he looks like he's flying.
For a kitty who was scared of his own shadow when he first arrived, Cody is now a social and loving little guy.
He's smart, too – just like an action hero! Cody knows when it's time to go to his condo for the night and jumps right in.
We're not sure why it's taking a long time for Cody to find his home, other than that he's a black cat. Without any additional markings, it can be hard to tell black cats apart…until you take the time to get to know them.
Once you get to know Cody, you won't mix him up again!
If only someone will take the time to get to know him they will see what a fantastic guy he is. To encourage an adopter, we will waive Cody's adoption fee and let him go free to an excellent home.