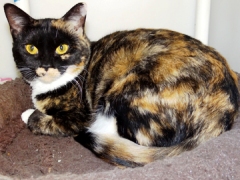 Avery is a sweet girl working on a brave heart.
When Avery first arrived, she was so afraid she wouldn't come out of her box. But she's been slowly pushing herself further and further and now sits at the edge of her condo, with the door open, watching the other cats as they play.
You can see her interest and desire to come down and join in, and know that it won't be long before she feels comfortable. She's begun to enjoy pets and scratches, and when you talk to her, she looks and listens with big, bright eyes.
Avery still needs a little patience to come out of her shell, but she's going to get there soon and be a wonderful companion.