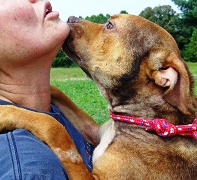 Butterscotch is oh-so sweet!
This is one sweet, sweet girl. She doesn't know a stranger and loves to give kisses and hugs.
Not only does she have a great temperament, but she got the most adorable face.!
Looks and personality…who could ask for more?
Come visit the shelter and meet Butterscotch. Her hugs and kisses will melt your heart!