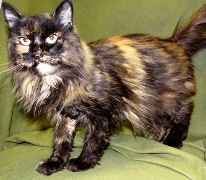 Amber arrived at the shelter with knots and mats in her fur and a little bit withdrawn.
After receiving lots of attention, some cleaning, food, and having her tummy shaved, she's really brightened up. It turns out that she's got a lovely personality.
She's shy, but not withdrawn.
If you are gentle, she will happily let you pick her up and she enjoys all of the attention she's been getting.
Amber is going to make someone feel very lucky to have her in their home.