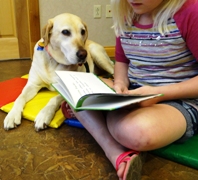 Daisy June, a certified therapy dog, relaxes and enjoys some good books at the Sit, Stay, READ program at the Brown County Library.
Sit, Stay, READ is an opportunity for kids to practice their reading skills by reading to one of two dogs, Mocha and Daisy June, in a relaxed, friendly atmosphere.
The dogs and the kids love it!
The next Sit, Stay, READ will be on Sunday, November 17 from 2:00-3:30.